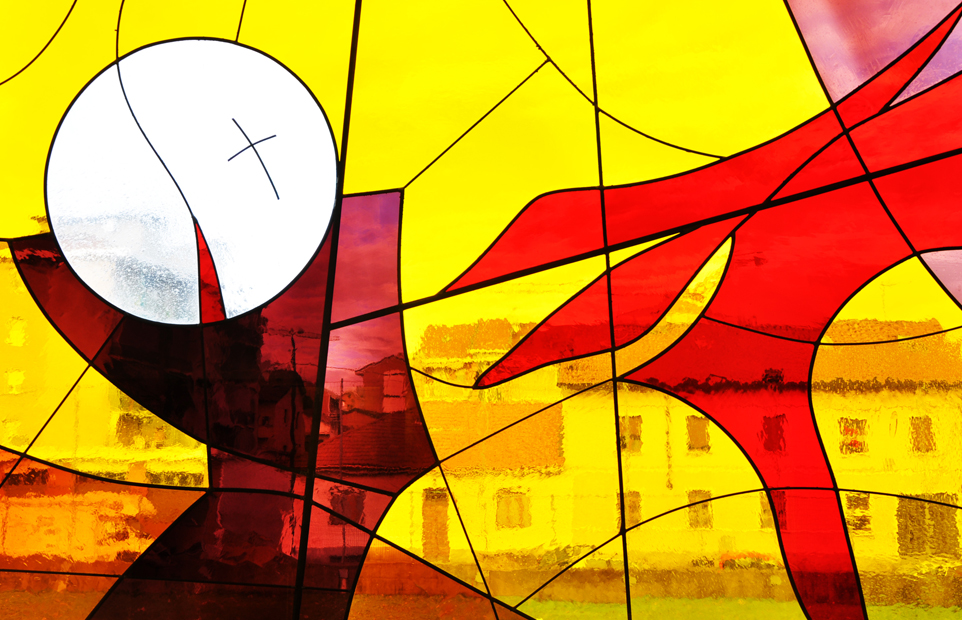 Light Fragments. Creative expressivism of glass in studio Comoglio works in Turin
The stained glass represents a common theme in Art and Architecture history,  with a very long tradition,  but in last century  seems  to have lost its evocative power, to be gradually substituted by the search for maximum transparency and lightness of glass.
In last years Comoglio Architects  is leading a design research to propose a revised form of stained glass, made by leaded  blown glass, in order to restore the relashionship between glass and architecture, between lightness and materic presence that this kind of solutions could suggest. Figurative choises are characterized by a contemporary approach of the drawing that matches figurative and abstract shapes.
Raising interent in artistic stained glass was inspired by the meet between Giorgio Comoglio and father Costantino Ruggeri, at the end of '90. Collaboration between the friar artist and the young architect led to an elaboration of the architectural works performed in Turin by Comoglio architects, primarily in the restoration of churches and sacred spaces, to become an iconic and identificative aspect also in private or public spaces.
Glass reveals as an interesting perspective to revitalize different type of spaces, through the use of color and light, promoting a functional tool related to the architectural design process. This means that even  a simple glazing, in a room of a house, in a office or in a church, collects and projects light in a vivid, animated space, continuously changing with the passage of time.
The glass becomes an interesting theme for the architectural practise, an active element of projects developped in different fields.
Comoglio Architects office owns a workshop space for the direct preparation of initial concepts and mock-ups, samples, till the assemblage of the final glazing.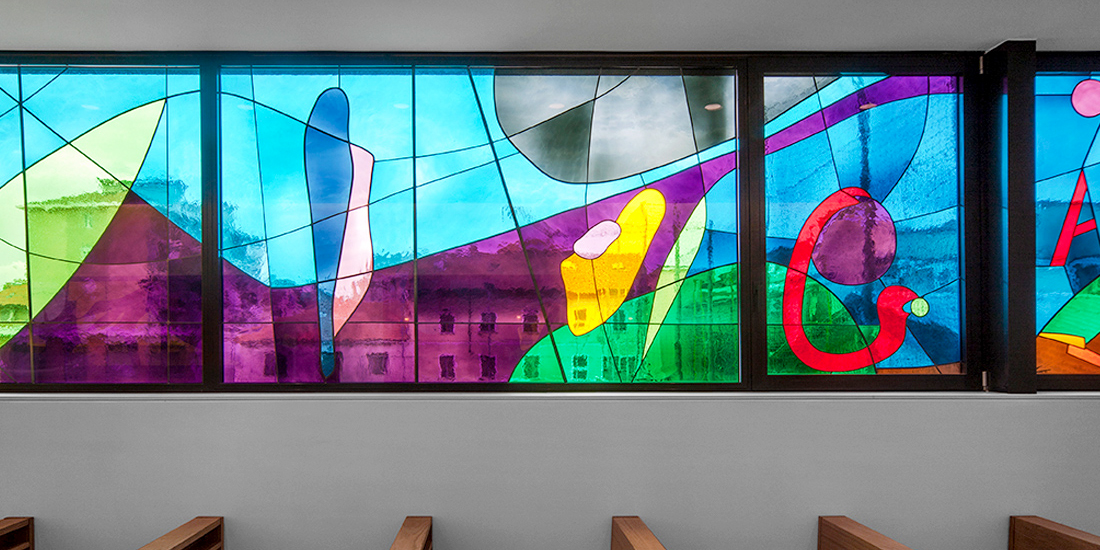 Stained Glass realized in Santa Maria Goretti weekday Chapel, Turin – design: Comoglio architects production: BiVetro
Figures reproduces or better suggest a few fragments of the 'Creation' scene (a piece of sky, a star, a flower) with a synthetic end living sign; the light passes through the colors, filters them in the chapel space and plunges us into a contemplative space.